MoveOn has endorsed Joe Biden by the largest margin in their history
MoveOn members have endorsed Joe Biden for president by the largest vote margin in MoveOn's history. We are millions of Americans who are ready to fight to ensure Donald Trump is a one-term president. And we've been planning for this moment since the day Trump won in 2016. We're ready to roll up our sleeve and go all in. But we can only do it together.
MoveOn members have voted overwhelmingly to endorse former Vice President Joe Biden in his campaign for the presidency—the most recent benchmark in the organization's electoral plan that will mobilize volunteers, turn out voters, and work to defeat Donald Trump.
Biden won 82.4% of votes cast by MoveOn members. The vote results will be announced to MoveOn members in an email and via text message today.
The Biden endorsement is the fourth Presidential candidate endorsement in the organization's 20-year history. The group endorsed then-Senator Barack Obama in 2008 before Super Tuesday with a vote of 70 percent of the membership and endorsed his re-election with 91 percent of votes. In 2016, Senator Bernie Sanders was endorsed during the primaries, with 78 percent of the vote.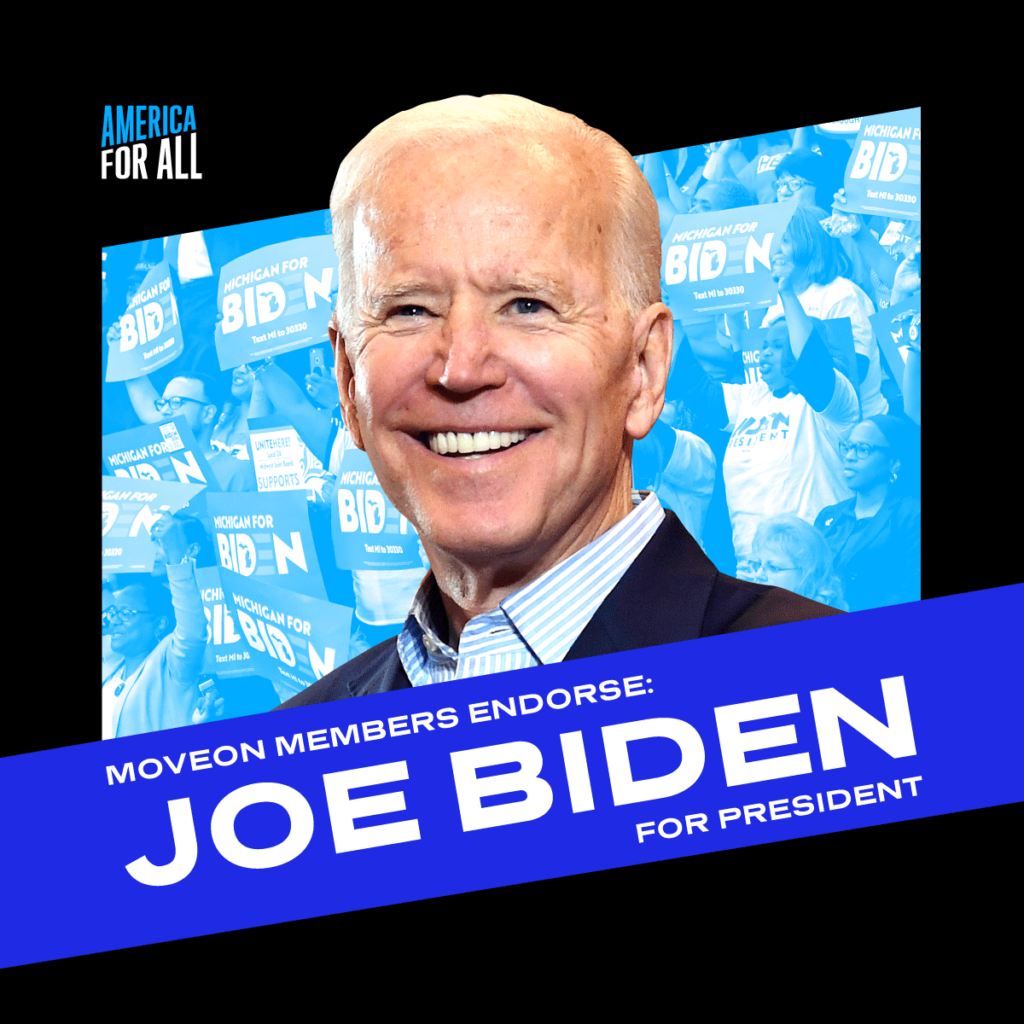 "MoveOn's millions of members are ready to mobilize together in support of Joe Biden, working to turn out voters in key states and ensure that Donald Trump is a one-term president," said MoveOn Political Action Executive Director Rahna Epting. "Donald Trump is racist, corrupt, immoral, and incompetent. He must be voted out. Joe Biden is a leader who listens, who is running on the most progressive platform in Democratic Party history, and whose election would create an opportunity for the big, structural changes this country needs. MoveOn members are proud to mobilize to support him."
MoveOn recently unveiled its electoral plan to defeat Donald Trump, end Republican control of the Senate and protect the Democratic-held House. The plan includes mobilizing their millions of grassroots progressives, including in battleground states; inspiring turnout among a population of 7 million "high-potential" voters—young people, people of color, and previously infrequent voters—who MoveOn has identified as likely to support Democratic candidates if they cast ballots; and protecting the right to vote from voter suppression attempts online and offline, including new threats stemming from the coronavirus pandemic. See more details about MoveOn's 2020 electoral plan here.
In 2018, MoveOn members helped power a "Blue Wave" that resulted in the highest midterm turnout in a century and elected the most diverse Democratically controlled U.S. House of Representatives in history.
Candidate endorsements are held by MoveOn Political Action, which represents the collective will of MoveOn's members at the ballot box by helping to elect progressive candidates.
Update: Biden offered the following quote to NBC News in response to our endorsement (See Link)
Endoresement, Donald Trump, MoveOn, Democratic Party, Largest Margin